Cisco vs Juniper: Navigating the Networking Landscape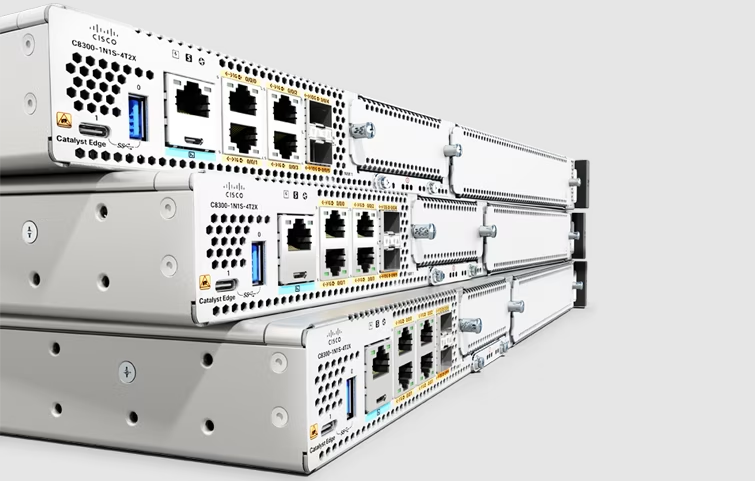 Author: Chris Hill, President at BrightStar Systems – LinkedIn
Explore the dynamic world of networking solutions in our Juniper vs Cisco comparative analysis to discover the best vendor and products for your needs. 
Uncover the nuances in market dynamics, revenue trajectories, and user reviews. Whether you're seeking versatility from Cisco's expansive offerings versus the focused simplicity of Juniper, this comparative analysis guides you through the intricacies of routers, switches, and peer opinions. Discover the essential factors influencing the choices between these industry giants, ensuring informed decisions in the ever-evolving realm of network infrastructure.
Table of Contents:
Market and Revenue Comparison
Use Case Comparison
Compare Cisco vs Juniper Routers
Compare Juniper vs Cisco Switches
Brand Cost Comparison
Peer Review Ratings: Ease of Deployment, Customer Service and Support
Juniper vs Cisco Firmware Comparison
How to Choose: Juniper vs Cisco
Frequently Asked Questions
Cisco vs Juniper Market and Revenue Comparison
Data center costs are expected to rise, with over 66% of enterprise data centers anticipating increased spending. The data center market is expected to reach $418 billion by 2030. Data center products and used data center equipment keep pace with high market demand.
In the competitive realm of networking solutions, Cisco and Juniper demonstrate distinctive revenue trajectories. Cisco boasts a robust financial performance, achieving $56.998B in annual revenue for 2023, marking a 10.55% increase from the previous year. 
Meanwhile, Juniper Networks, although recording a lower annual revenue of $5.665B in 2023, has shown a commendable 15% year-over-year growth. These figures illustrate Cisco's dominant market presence, while Juniper exhibits consistent growth within its niche.
Juniper vs Cisco Third-Party Market Indications
Cisco's substantial annual revenue and significant market influence result in a thriving third-party market for buying and selling used Cisco networking equipment, fueled by demand for cost-effective solutions from this industry leader. 
Juniper's consistent growth and expanding market presence — despite a lower annual revenue —  indicate a promising third-party market for used equipment, driven by the increasing adoption of Juniper solutions. 
Both companies contribute to a dynamic landscape for third-party resellers who cater to diverse networking needs. Many data centers seek to decommission or liquidate unused or less efficient hardware to recoup capital locked up in hardware assets before purchasing new or refurbished networking equipment for transformation and data center upgrade efforts.
Cisco vs Juniper: A Comparative Analysis of Use Cases
Cisco and Juniper address diverse industry and application needs within the networking landscape. Juniper focuses primarily on routing, switching, and security products, while Cisco offers a broader array, which also includes video/telephony, unified communications, and SAN devices.
In terms of popular opinion, Cisco, renowned for its robustness, is often perceived as having an archaic feel compared to Juniper's more elegant and intuitive configurations. Cisco boasts a stronger and more extensive network of experts and certified engineers. In contrast, Juniper emphasizes that networking concepts remain consistent across different platforms.
The following sections examine and compare Cisco vs Juniper for specific use cases and popular opinions of product use.
Cisco
Cisco has been a stalwart in enterprise networking solutions, with the NexusSeries excelling in large-scale data centers and proving versatile for various applications, including industrial networks.
Pros
Established and reliable market leader.

Diverse product range with more features and functionality.

Versatility for industrial applications.

High levels of product support and documentation.

Boasts the largest network of certified engineers and expertise.
Cons
Potential for higher and varied product pricing.

Multiple operating systems (IOS, XR, XE, NX-OS).

Less intuitive CLI and configuration hierarchy.

Intensive and complex licensing needs.

Cumbersome multi-line configuration requirements.
Juniper
Juniper, historically a leader in service provider products, initially catered exclusively to this market. The MX and QFX Series stand out, while the EX series switches are gaining enterprise market share.
Pros
Focus on MX Series for specific networking environments.

Competitive pricing.

Single operating system (JUNOS).

Intuitive CLI and configuration with highly regarded single-line commands such as "show and compare" and "commit confirmed."

Rollback functionality to a specific point in configuration history for reverting changes.
Cons
Limited product range compared to Cisco.

Smaller market share.

Known history of software bugs in certain products.

Software upgrades may present challenges when transitioning between versions.
Cisco vs Juniper Product Comparison
Cisco and Juniper routers are broken into several different series that are designed for specific networking environments. Both companies supply edge and core routers that are available in fixed and modular setups that support a variety of port configurations, speeds, and optics.
There are some fundamental characteristics that Cisco and Juniper routers have in common, but a Cisco vs Juniper router comparison highlights a few key differences. The mechanics of the two suppliers' modular systems are different, for example. A closer look also shows that Cisco and Juniper routers support different optical transceiver form factors.
One of our goals at BrightStar Systems is to provide information on our products that will enable you to make informed purchasing decisions. This Cisco versus Juniper router comparison below will help you determine which products best fit your needs. If you need additional help determining which networking equipment is right for your business, we'd love to help.
Cisco Vs Juniper Router Comparison: Overview
A direct Cisco vs Juniper router comparison shows that both Cisco and Juniper routers are designed to be linked to networking hardware made by the same company. That means using Cisco routers with Cisco switches and Juniper routers with Juniper switches will help you avoid most major compatibility issues. There are three main aspects to consider in order to properly compare Cisco and Juniper routers.
Impact of Market Share
One thing highlighted by a Cisco and Juniper router comparison is the fact that Cisco has a larger share of the overall router market. Because of that, there are more certified Cisco service engineers and more online support resources compared with Juniper for troubleshooting hardware issues.
Two Different Modular Configuration Architectures
Comparing Cisco vs Juniper routers also shows that although modular Cisco and Juniper routers both have mechanisms for customizing port configurations and modules, the systems are very different. Cisco uses line cards, which are inserted directly into the router chassis, compared with Juniper routers, which use a multi-layered system involving Modular Port Concentrators (MPC) and Modular Interface Cards (MIC). In a Juniper router chassis, the MPC goes into the chassis, and then multiple MICs are inserted into the MPC.
Optical Transceiver Form Factors
Another key distinction pointed out by a Cisco vs Juniper router comparison is that Cisco has it's own proprietary CPAK optical transceiver form factor, which supports up to 100G Ethernet. Although Juniper's routers support a combination of optical transceivers that support 100G Ethernet, including, CFP, CFP2, and QSFP28, they are not compatible with CPAK optics.
Comparing CPAK optics to other optical transceivers shows there are advantages and disadvantages to various 100G Ethernet form factors. Optical transceivers in a QSFP28 form factor, for example, are extremely small and have really low power consumption, but have limited channel configuration options. Cisco's CPAK optical transceivers support a few different channel setups, but they are slightly larger and consume more power than QSFP28 optical transceivers.
Cisco and Juniper Routers Span the Entire Spectrum of Networking Applications
Identifying some of the key features of Cisco and Juniper routers will make it easier to compare Cisco vs Juniper routers and their technical data points.
Cisco Routers
Cisco's line of routers spans many series, covering nearly every possible networking environment and use. Cisco supplies routers for small businesses, branch offices, enterprises, data centers, industrial settings and service providers.
Cisco's routers range between 1 RU (rack unit) and full-rack heights. The high-end models, such as the routers in the ASR 9000 Series, support 100G Ethernet speeds. Some of Cisco's modular router models are designed as fully customizable chassis, which allows for greater scalability. The ASR 1000 Series and the ASR 9000 Series are prime examples of this. Our Cisco vs Juniper router comparison will pinpoint some of the main differences between Cisco and Juniper modular routers.
Juniper Routers
The bulk of Juniper's routers fall under its MX Series, which covers enterprise, data center, and service provider networking environments. Juniper also supplies series designed for more specific networking environments, such as industrial settings. BrightStar Systems also supplies used end-of-life Juniper router series, including the M Series, the J Series, and the E Series.
Juniper's routers range in size from 1 RU all the way up to full-rack heights, and the higher-end models, such as the MX2008, the MX2010, and the MX2020 models, support up to 100G Ethernet. Some Juniper routers are also available as chassis, which provides flexible port configurations and extra room for additional modules in the future.
To see how Cisco's high-end routers compare with Juniper's most powerful routing hardware, check out our Juniper MX vs Cisco ASR routers page.
The Cisco vs Juniper router comparison below provides more detailed information on how each company's routers differ and points out several key contrasts to help you with your router purchases.
If you're still in the research phase, be sure to check out the in-depth used network equipment buying guide we put together, which explains every step in the purchasing process.
Comparing Cisco vs Juniper Routers: Recap
This Cisco vs Juniper router comparison identifies several key differences between Cisco and Juniper routers, but the router selection that's right for you depends totally on what your needs are. Below is more information about Cisco and Juniper switches, which will help support the Cisco vs Juniper router comparison.
Compare Juniper vs Cisco Switches
The Cisco vs Juniper switch comparison shares many of the same differences as Cisco and Juniper routers.
Just like with the Cisco and Juniper routers, CPAK optical transceivers are exclusive to Cisco switches. Juniper switches are compatible with several other optical transceiver form factors, but cannot be used with CPAK hardware. Cisco also has a major share of the world's switch market, just as it does the router market.
One distinction that does not fall in line with the Cisco vs Juniper router comparison is that Cisco offers a more diverse selection of switches than Juniper. Juniper's switches meet the needs of enterprise, data center and service provider networks But comparing Juniper switches vs Cisco shows that Cisco offers switches for all applications, in addition to industrial networks and some other niche applications. In general, Cisco offers a greater variety of switches.
Cisco Switches
The differences that were identified in the Cisco versus Juniper router comparison will make more sense after looking at a Juniper vs Cisco switch comparison.
Two of Cisco's most prominent lines of switches are the Nexus 9000 Series and the Catalyst 2960-X/XR Series. The Nexus 9000 Series includes Cisco's best-performing switches. Nexus 9000 switches are designed primarily for large-scale data centers.
Cisco's Catalyst 2960-X/XR Series is available in two configurations, the Catalyst 2960-X and the Catalyst 2960-XR, and it's one of Cisco's best-selling switches. Both the 2960-X and the 2060-XR can be purchased with 24 or 48 1G Ethernet ports.
Juniper Switches
Two of Juniper's most high-performing switch series are the EX Series and the QFX Series.
The Juniper EX Series is made up of nine subseries of switches, most of which are access- and aggregate-level switches. There is only one core Ethernet switch subseries, but it's available in three different chassis.
The QFX Series includes only three subseries of switches, the QFX5100, the QFX5200 and the QFX10000. These switches are capable of very high speeds and dense port configurations, which makes them best suited for large enterprise and service provider networks.
BrightStar Systems Offers a Wide Selection of Cisco and Juniper Routers and Switches
BrightStar Systems is a non-affiliated independent dealer of used Juniper hardware, as well as a supplier of pre-owned Cisco networking equipment. We stock and resale only the highest-quality networking products, and every piece of hardware undergoes performance tests to make sure it's fully operational. Not only that, but every piece of used and pre-owned hardware comes with BrightStar Systems' 1-Year In-House Warranty.
In addition to the routers and switches mentioned throughout this page, BrightStar Systems supplies the following Cisco and Juniper hardware:
Cisco:
800 Series ISR routers
4000 Series ISR routers
Meraki MX Series routers
NCS 5000 Series routers
NCS 5500 Series routers
NCS 6000 Series routers
800 Series Industrial ISR routers
900 Series Industrial routers
1000 Series Connected Grid Routers
2000 Series Connected Grid Routers
500 Series WPAN Industrial Routers
IOS XRv 9000 routers
CSR 1000v routers
Catalyst 9400 switches
Catalyst 9300 switches
Catalyst 4500E switches
Catalyst 3850 switches
Catalyst 3650 switches
Catalyst 2960-L switches
Catalyst Digital Building Series switches
Catalyst 3560-CX switches
Catalyst 2960-CX switches
Catalyst 2960-L switches
Catalyst 9500 switches
Catalyst 6800 switches
Catalyst 6500 switches
Catalyst 4500-X switches
Catalyst 3850 switches
Nexus 7000 switches
Nexus 5000 switches
Nexus 3000 switches
Nexus 2000 Series Fabric Extenders switches
Industrial Ethernet 5000 switches
Industrial Ethernet 4010 switches
Industrial Ethernet 4000 switches
Industrial Ethernet 3000 switches
Industrial Ethernet 2000 switches
Industrial Ethernet 1000 switches
Application Virtual Switch switches
Nexus 1000V Switch for Microsoft Hyper-V switches
Nexus 1000V Switch for VMware vSphere switches
Nexus 1100 Series Cloud Services Platforms switches
Virtual Security Gateway for Nexus 1000V Switch switches
550X Series Stackable Managed Switches
350X Series Stackable Managed Switches
350 Series Managed Switches
250 Series Smart Switches
110 Series Unmanaged Switches
550X Series Stackable Managed Switches
350X Series Stackable Managed Switches
350 Series Managed Switches
250 Series Smart Switches
110 Series Unmanaged Switches
Juniper:
SRX110 gateways
SRX220 gateways
SRX300 gateways (includes SRX300, SRX320, SRX340 and SRX345 models)
SRX550 gateways
For more information about our Cisco vs Juniper router comparison, or to find out which Cisco and Juniper routers we have in stock, please contact our sales team today.
In addition to used Cisco and Juniper hardware, we stock pre-owned Arista hardware. Arista specializes in switches designed for high-computing environments.
You can get a better idea of what Arista's Ethernet switches are capable of by checking out our Arista vs Cisco comparison.
Juniper vs Cisco Cost Comparison
Cisco, historically a market leader, now faces increased competition from Juniper's more budget-friendly options. Cisco's diverse product range may vary in pricing, influenced by extensive support resources. Juniper offers competitive alternatives with a growing market presence. 
Both companies provide perpetual use and subscription models for cost flexibility. Assessing total investment, intended usage duration, and feature alignment is crucial for tailored evaluations. Both industry giants cater to diverse needs, suitable for businesses of any size, and consulting with network experts like BrightStar Systems ensures informed decisions.
Juniper vs Cisco Peer Reviews: Ease of Deployment, Customer Service and Support
According to peer review data from Gartner, Cisco and Juniper exhibit notable differences in density of customer reviews, but are close in rank. Cisco boasts a substantial 13,328 reviews, maintaining an impressive 4.4 out of 5 overall rating, indicating widespread satisfaction. In contrast, Juniper has fewer reviews (264) but maintains a high overall rating of 4.6. 
In the realm of switch ratings, Juniper switch reviews and Cisco switch reviews both boast an impressive average score of 4.6 out of 5, derived from a comparable volume of reviews exclusively centered on their switch products. 
Juniper takes a slight lead in evaluation and contracting,making it an excellent choice for meticulous planning.Meanwhile, Cisco's excellence in service and support positions it as the preferred option for those prioritizing comprehensive and responsive assistance.
Both brands shine with a noteworthy rating of 4.7 for the advanced capabilities of their switch products, providing diverse and high-performing solutions for varying organizational needs.
Juniper vs Cisco Firmware Comparison
Cisco and Juniper are renowned for their commitment to regular firmware updates, vital for network security and performance. While both prioritize firmware updates, the choice between Cisco and Juniper depends on specific network needs and user preferences for ease of updating, compatibility, and unique features.
Cisco provides consistent updates across its networking equipment, addressing security issues and introducing new features, supported by a robust support system. Juniper, utilizing the Junos operating system, does have a record of known bugs in some of its products but maintains stability with regular firmware releases to enhance device functionality and address emerging threats. 
How to Choose Between Cisco and Juniper 
Choosing between Cisco and Juniper involves evaluating specific organizational needs and priorities. Start by defining the scale of your network, considering factors like size, complexity, and performance requirements. 
Assess security concerns; Juniper is known for a strong security focus, while Cisco offers comprehensive features and versatility. Evaluate existing infrastructure for seamless integration. Consider the technical expertise within your team; Cisco's extensive support may influence your decision.
For routers, analyze the scale and performance requirements. Cisco's diverse range caters to various needs, while Juniper emphasizes simplicity and security, making it ideal for data-intensive applications. 
For switches, focus on integration and deployment needs. Cisco's ecosystem is broad and adaptable, while Juniper excels with streamlined architecture, making it a good choice for those prioritizing ease of management. Ultimately, align choices with unique goals, budget constraints, and the long-term vision for your network infrastructure.
Frequently Asked Questions
Choosing between Juniper and Cisco depends on specific requirements. Juniper excels in simplicity, high-performance routing, and strong security features. Cisco offers versatility, reliability, and a diverse product range, making it a better fit for organizations seeking comprehensive networking solutions with extensive industry support.
Juniper Networks faces competition from various networking companies, including Cisco Systems, Arista Networks, Huawei Technologies, and Hewlett Packard Enterprise (HPE). These competitors offer alternative solutions and technologies in the networking industry, providing customers with options based on their specific needs and preferences.
Cisco's primary competitor is Juniper Networks. The two companies dominate the networking industry and offer a range of routers, switches, and other networking solutions. While other competitors like Arista Networks and Huawei also exist, Juniper Networks stands out as a key rival to Cisco in the networking market.
Cisco's biggest product is its line of Catalyst switches, specifically the Catalyst 9000 Series. These switches are renowned for their versatility, scalability, and advanced features, making them a cornerstone in enterprise networks. Cisco Catalyst switches are widely used for building robust and high-performance network infrastructures across various industries.
Juniper's biggest product is the MX Series routers. These Juniper routers are designed for high-performance networking, particularly in large-scale environments such as data centers and service provider networks. The MX Series is known for its streamlined architecture, security features, and support for software-defined networking (SDN), offering a comprehensive networking solution.
Yes, Juniper switches are highly regarded for their performance, reliability, and security features. The EX Series, in particular, offers switches suitable for various networking environments. With a focus on simplicity, high-performance routing, and robust security, Juniper switches are considered a solid choice in the networking industry.
Cisco switches are recognized for their versatility, reliability, and extensive feature sets. With a diverse range of models catering to various scales, from small businesses to large enterprises, Cisco switches are widely adopted. Their comprehensive capabilities and seamless integration within the Cisco ecosystem contribute to their reputation in the networking industry.
Choosing Juniper over Cisco may be driven by a focus on streamlined architecture, especially beneficial for simplified deployment and management. Juniper routers excel in high-performance routing and prioritize network security with built-in firewall capabilities. Additionally, Junos OS supports open standards for Software-Defined Networking, enabling programmability and automation.
Opting for Cisco over Juniper might stem from Cisco's extensive range of router options, catering to diverse scales and requirements. Cisco's global market presence ensures widespread industry adoption and support, and its routers seamlessly integrate with other Cisco networking equipment, offering a cohesive ecosystem with a strong reputation.
Determining the best switch in networking depends on specific requirements. Cisco's Nexus switches are favored for their versatility, comprehensive features, and integration capabilities within Cisco's ecosystem. Juniper's EX Series switches excel in simplicity, high-performance routing, and streamlined architecture, making them ideal for data centers and service providers.
BrightStar Systems is not an authorized Juniper partner and we have no affiliation with Juniper Networks. BrightStar Systems is an independent used Juniper networking hardware reseller.